One of the factors for the popularity of the hit murder-mystery Knives Out was Jamie Lee Curtis's impeccable performance. The iconic actress portrayed the aggressive role of Linda Drysdale. Linda and Thrombey's family would unfortunately not return to the sequel of Knives Out. The actor announced the news in a recent Instagram post.
The Halloween Actress wrote,
"To clear up any rumors, the Thromby family is in family counseling and the therapist suggested they stay away from Benoit Blanc in the future. Linda was fine as she kicked her loafer wearing prick of a husband, sorry @donjohnson to the curb. The rest of them are hustling. Ransom is apparently in the knitting sweater business, a new skill he picked up in the slammer. Joni has some vaginal scented bath bomb, Walt is self publishing his memoir. NONE of us will be joining Mr. Blanc in Greece. As the family spokesperson we wish the filmmakers all our best in their new venture."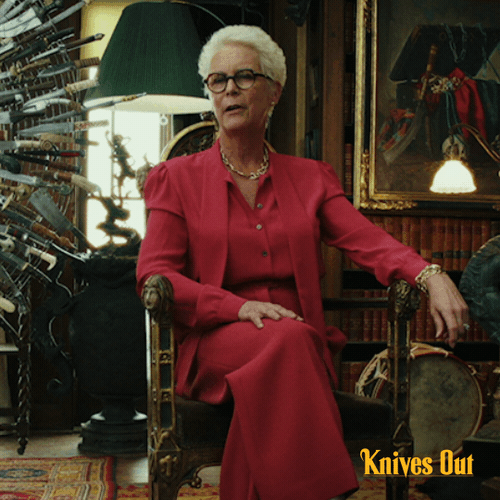 Lionsgate distributed 'Knives Out' in November 2019, and the film went on to become a word of mouth box office success earning $311 million worldwide.
Previously, there were rumors that Netflix would close a massive deal for two sequels to Knives Out worth $600 million. The films were claimed to follow Daniel Craig's Benoit Blanc, and the suspect family in the first movie was, therefore, meant not to be involved in the sequels.
Jamie Lee Curtis fully went into the character, as it is obvious from her tone and choice of words in her Instagram post. Although she channeled Linda's stubbornness and perverseness, she was a little more polite as she went after Don Johnson's character and congratulated the filmmakers on the tremendous deal.
Curtis concludes her fan fiction by informing her audience that none of the Thrombeys will join Mr. Blanc in Greece, where Knives Out 2, on June 28, will start shooting.
Also Read: Godzilla vs. Kong Movie Review: A Monster Battle Extravaganza
Curtis, however, did not mention Marta Cabrera's character, played by the Cuban actress Ana de Armas, the nurse who served the family and helped Benoit investigate the death of Harlan. This has left the fans wondering if Marta will return in future films or not.
Both sequels of Knives Out, Knives Out 2, and Knives Out 3 will exclusively release on Netflix, following the massive $600 million deal. Detective Benoit Blanc will appear in both parts, and the sequels will be under the direction of Rian Johnson, who also has the writing credits of all parts of Knives Out. The release date of the sequels isn't announced yet. However, Rian Johnson has already finished the scripts of both parts.
You May Also Like: Brad Pitt and Angelina Jolie's 5-Year Divorce War Cost each $1 Million, the Custody Battle Continues
Chris Mack